MESSAGES FROM PLANTS: The Sunflower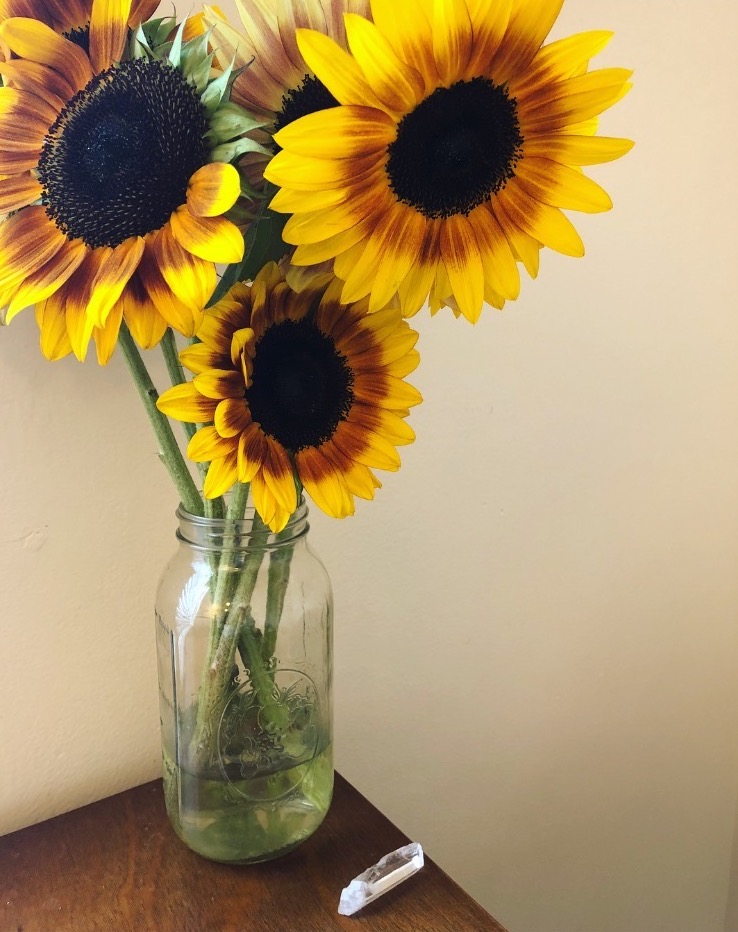 Plants have been a source of comfort and wisdom for me throughout my life. Always captivated by their beauty, intelligence and humility, I have gleaned many simple yet profound lessons by simply staying open to their messages. I truly believe plants are our allies for healing- in mind, body and spirit!
Yesterday's morning tea and meditation (with the most gorgeous organically grown sunflowers by my side) ended with a channeling of lessons from the noble sunflower.
The sunflower's existance is literally characterized by a quest to find and drink in the light. Growing above all the rest of the plants, sunflowers have created a life of continually seeking how close they can be towards their source of energy- the Sun. They have even developed a massive surface area for which to absorb and transmute this coveted light.
Sunflowers love light so much they have intelligently designed their entire being in reverence and response to the Sun. During the day they actually follow this light source, always seeking to be connected to and energized by the light. We see divine beauty in the sunflower because yes, they are aesthetically beautiful, but they also hold for us a subtle lesson in following our own Truth, our own source of Light.
The sunflower teaches us about a life of seeking, responding and growing towards our "Light"- anything in life that gives us energy. This Light can be those things you love and feel most drawn to, the habits, attitudes and behaviors that feel life-giving, our sense of connection to divine/spiritual guidance and the guidance we feel from following our intuition.
APPLYING THE SUNFLOWER'S WISDOM
SEEK WHAT GIVES YOU ENERGY IN MIND, BODY, SOUL.
MIND What thoughts, beliefs and intentions fill you with positive energy? And those which drain you of energy- is there a way to change them to be more life-giving? The sunflowers asks us to keep our thoughts about ourselves and other positive so we may stay in the growth-giving powers of the Light.
BODY What foods and health habits give you the most energy? Foods vibrate at different frequencies, some holding more energy than others. Foods fresh from the Earth are filled with the pure energy of the Sun and are life-giving! Processed foods have been altered so drastically that their energy content has been compromised. When you choose foods, do you choose mostly high-energy or low-energy foods? When you choose the habits and activities that make up your day, do you choose those that add to your energy or drain your energy? The sunflower asks us to choose our habits and behaviors based on how they align us with the life-giving qualities of our brightest Light.
SOUL Do you regularly allow yourself to listen to the subtle messages of the heart and soul? The light of the sunflower is the Sun- our own Light is our unique form of inner and divine guidance and our truth. Following our Light means taking heed of what lights us up and responding to what make us feel most alive. When we are aligned with our Source of Light, we feel a sense of trust in our personal quest. We know, deep inside, that our Light will not lead us astray.
REMEMBER THAT LIGHT STILL EXISTS EVEN ON THE CLOUDIEST DAYS.
On overcast days the sunflowers does not shrivel up and become despondent. They keep their heads up high, knowing that behind the clouds the Sun is still shining. The sunflower teaches us to continually seek the Light, even during those times when it may feel difficult or impossible to see and feel it.
The sunflower knows that they have a connection so deep with the Light that they have become a reflection of the Light. This Light runs so deep within them that they can actually brighten a cloudy day with the radiance of their very being!
Channeling the wisdom of the sunflower, we remember that by simply seeking the Light, we become the Light. The yellow of their petals corresponds to the Third Chakra- the solar plexus. This chakra is the source of our Light- our personal power. This chakra asks us to "radiate our power into the world". The more Light we seek and allow to shine onto us, the more we become a powerful Light both for ourselves and for others.
Any time we feel in need of inspiration to connect back to our Light, we can simply call on the energy and wisdom of the sunflower as our guide.
Below is a meditation based on the energy sunflower to open and activate the personal power of our Solar Plexus Chakra.
Simply lie down comfortably, close your eyes, listen with headphones in and relax!